Luxury Marketing, Branding & Creative Service to Attract and Retain Members
Private Club Marketing, is an award winning, luxury marketing, branding and membership sales consulting firm who's firm is all about private clubs, golf communities, resort destinations, boutique hotels, estates and unique lifestyle environments. We help Developers, Owners, Financial Institutions, and Management Companies make big decisions on envisioning, strategy, marketing, sales, and organization.
Our mission is to improve the consumer experience by offering lifestyle expertise that inspires opportunity, influences choice and celebrates affluent and accomplished people, and the businesses that serve them. Whether needs be a curated Membership Marketing and Sales Strategy, Creative Direction and Design, Photography, Content and Marketing Collateral Development or Website Design and Management; Private Club Marketing has a coveted reputation for delivering and providing a 'turn-key' approach to marketing essentials.
Years of experience with international luxury brands and hospitality industries facilitated the need to evolve, continually pushing the boundaries of modern technology and traditional marketing techniques. We assist numerous brands from start-ups to well-established and implement a range of identity, product and image strategies propelling companies forward to further success.
Unlock the full potential of your private club's communication strategy with our email marketing services. At Private Club Marketing, we understand the importance of reaching your members and prospects effectively. Our dedicated team specializes in crafting personalized and engaging email campaigns that resonate with your audience. From event invitations and newsletters to exclusive offers and announcements, we'll help you deliver the right message at the right time. With our expertise in segmentation, automation, and analytics, we ensure that your email marketing efforts drive member engagement, retention, and club growth. Let us tailor your email communication to enhance member experiences and strengthen your club's brand presence.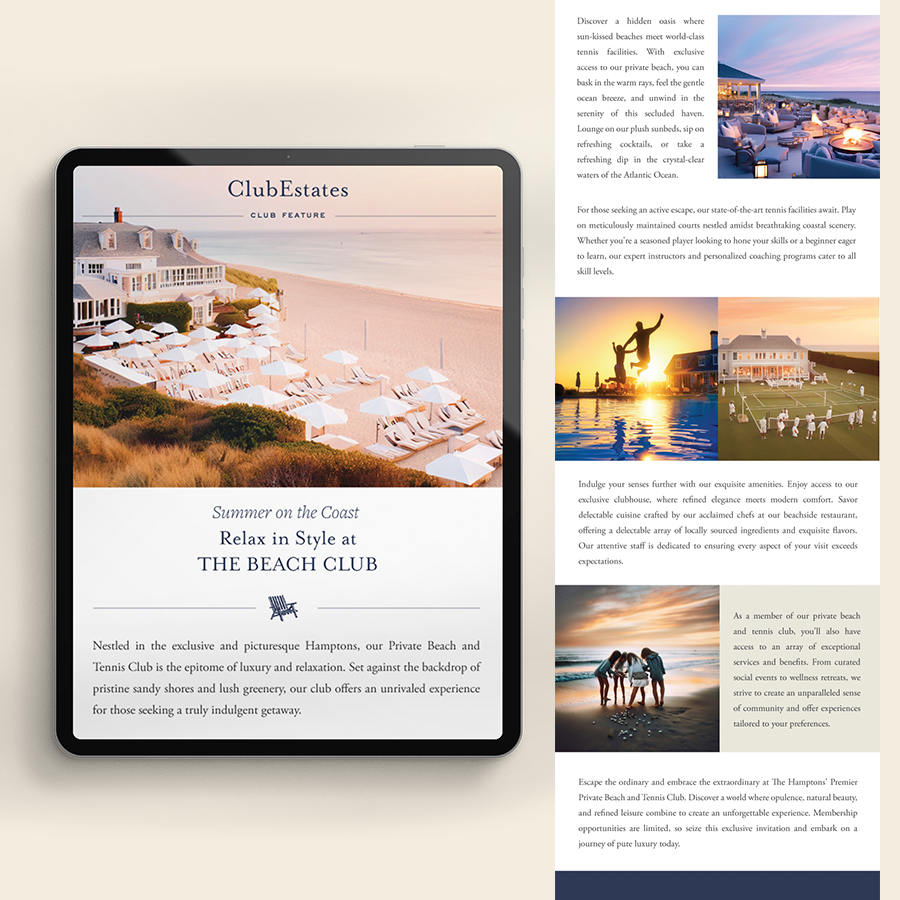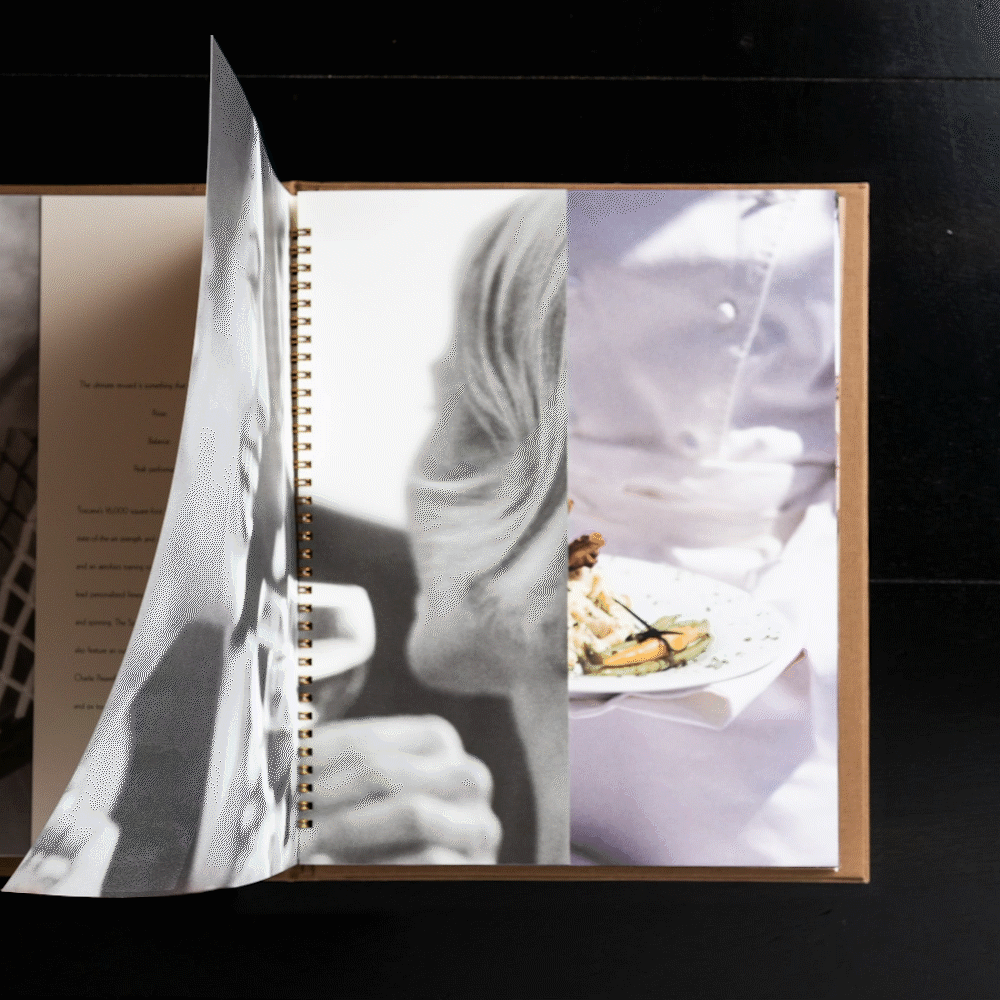 Storytelling & Content Writing
Craft compelling narratives and elevate your private club's brand with our storytelling and content services. We recognize the value of sharing captivating stories that resonate with members and prospects alike. Our skilled team of writers and content strategists will collaborate with you to develop engaging content that showcases the rich history, exclusive experiences, and vibrant community of your club. From feature articles and member spotlights to visually stunning multimedia, we'll bring your club's unique story to life. Let us help you create an authentic and compelling narrative that strengthens member connections, attracts new interest, and sets your club apart in the private club industry.
Enhance your private club's online presence with our comprehensive social media services. We understand the pivotal role that social media plays in engaging members and promoting club activities. Our dedicated team will create and curate compelling content, manage your social media accounts, and implement targeted strategies to boost member interactions and attract potential recruits. Whether it's sharing stunning visuals of club events, promoting special offers, or facilitating member discussions, we ensure that your club's social media presence reflects its unique character and exclusivity. Let us help you harness the power of social media to foster stronger connections, drive engagement, and elevate your club's online image.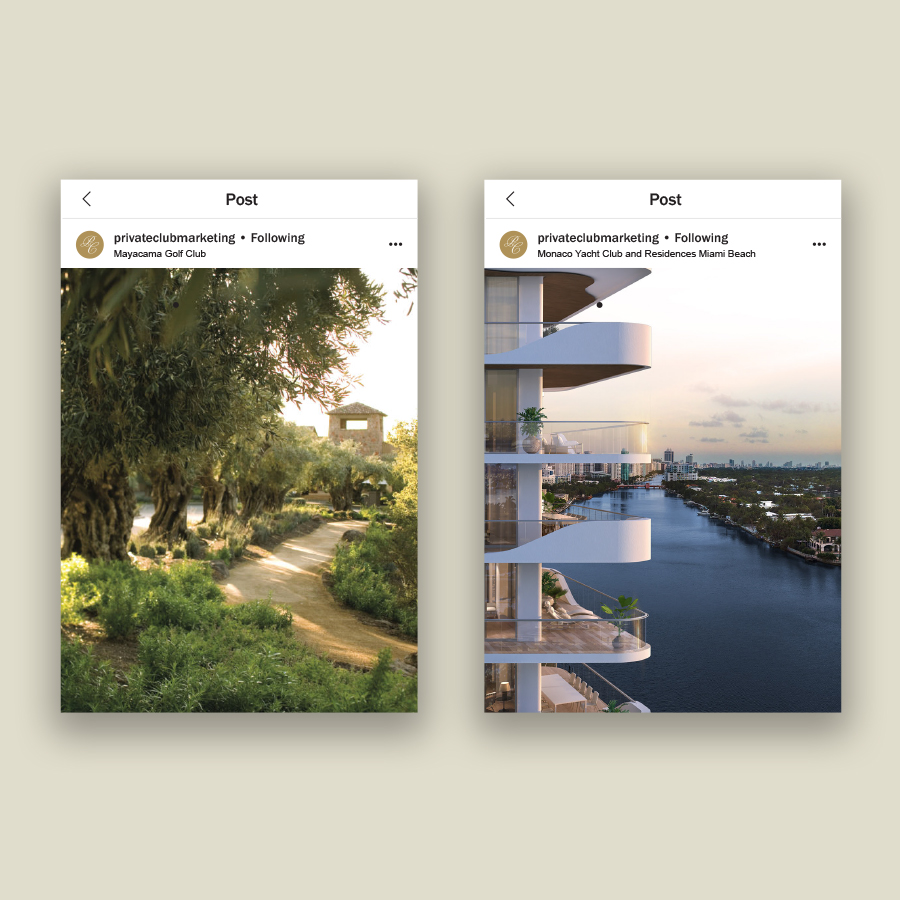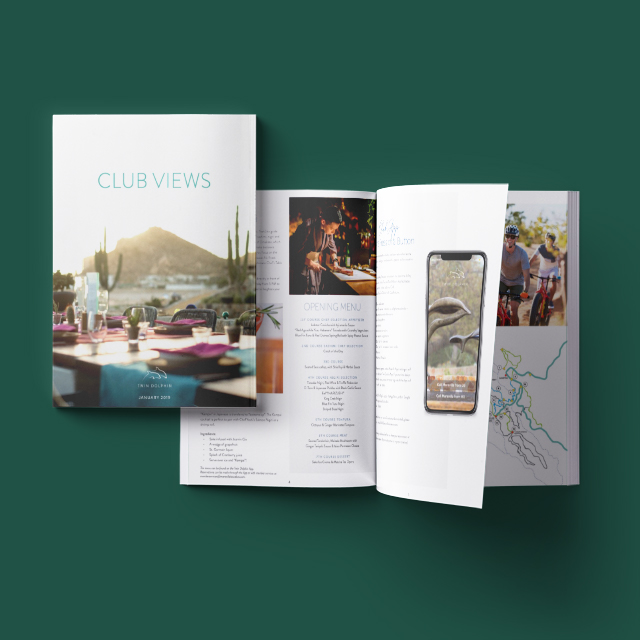 Elevate your private club's communication with our premium printer newsletter design services. At Private Club Marketing, we understand the importance of keeping your club members informed and engaged. Our expert designers will work closely with you to create visually stunning and personalized newsletters that reflect the unique charm and character of your club. From elegant layouts to captivating imagery, we'll ensure that each newsletter leaves a lasting impression. Stay connected with your members in style, delivering all the latest news, events, and updates with our top-notch printing and design solutions. Let us transform your newsletters into a powerful tool for building community and enhancing the club experience.
Transform your private club's online presence with our tailored website design services. We recognize the significance of a captivating and user-friendly website that mirrors your club's unique character and exclusivity. Our team of skilled designers and developers collaborates closely with you to craft a stunning digital platform that highlights your club's amenities, events, and membership advantages. Prioritizing responsive design and intuitive navigation, we ensure that members and potential recruits can easily access information and interact with your club online. Let us create a website that not only captures the essence of your private club but also serves as a potent tool for member engagement and recruitment.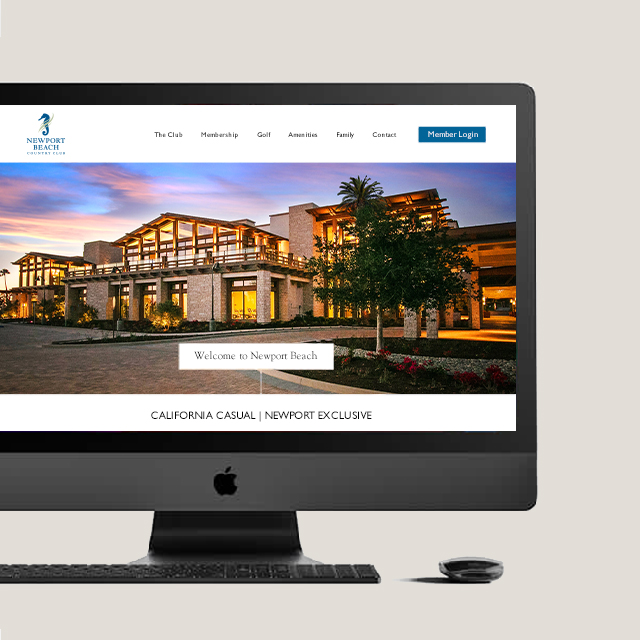 Beach & Tennis Club Generates $4M in New Member Prospects
See how Private Club Marketing assisted in generating over $4M in new member prospects from a single email promotion.